Get Your Free, No-Obligation Moving Quote from Explore Movers Today!
Move into Your Dream Home with Ease: Explore Movers Professional Residential Moving Services
Moving can be overwhelming, but it doesn't have to be. Whether you're moving across town or across the country, Explore Movers offers professional and reliable residential moving services in Flint, Michigan to help make your move stress-free and efficient. Our team of experienced movers is equipped with the skills and equipment to handle any size move, from small apartments to large family homes.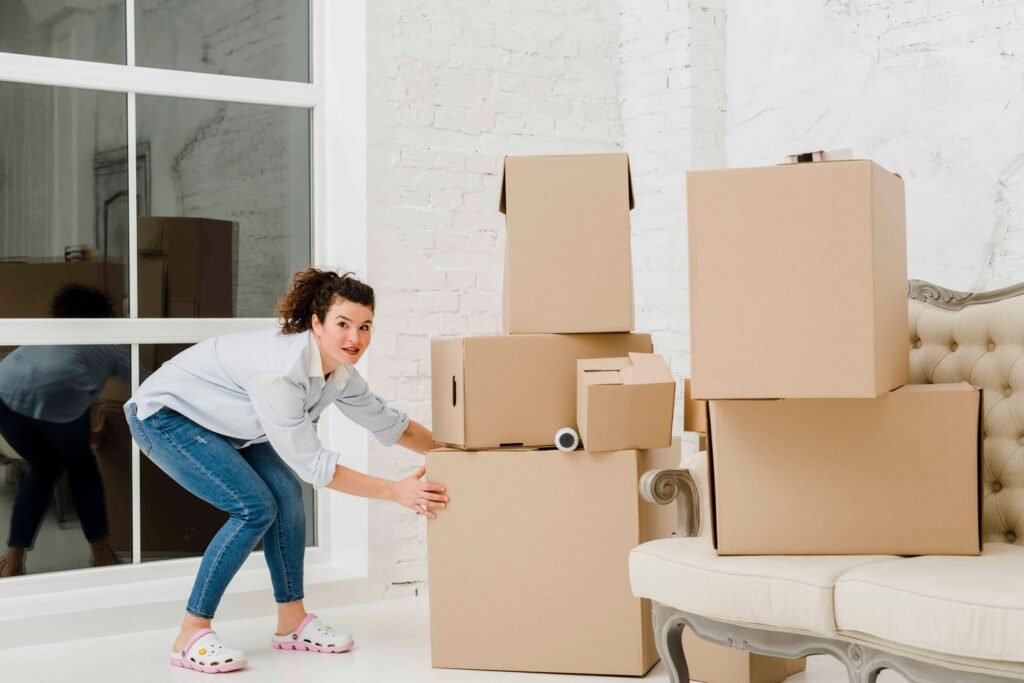 Comprehensive Residential Moving Services
At Explore Movers, we understand that every move is unique. That's why we offer customized residential moving plans tailored to your specific needs. Our comprehensive services include:
Packing and Unpacking: Our team of movers can assist with packing your belongings and labeling each box for easy organization. We also offer unpacking services to help you settle into your new home quickly.
Loading and Unloading: Our team will carefully load your belongings onto our moving truck and secure them for safe transport. Once we arrive at your new home, we'll unload your items and place them where you'd like them.
Transportation: Our fleet of moving trucks is equipped with the latest technology to ensure your items arrive at your new home safely and on time.
Storage Solutions: We offer short- and long-term storage solutions for your belongings if your move requires temporary storage.
Specialized Services: We also offer specialized services for unique items, such as pianos, antiques, and fine art. 
Why Choose Explore Movers for Your Residential Move?
Efficient and Timely Moving Solutions
At Explore Movers, we understand that time is of the essence when it comes to moving. That's why we offer efficient and timely moving solutions to help you get settled in your new home quickly. Our team will work with you to create a moving plan that fits your schedule and needs, ensuring a smooth and stress-free move.
Experienced and Reliable Team
Our team of movers is experienced, professional, and reliable. We understand the importance of your belongings and will handle them with care and respect. Our movers undergo extensive training to ensure they are equipped with the necessary skills to handle any size move.
Affordable Moving Solutions
At Explore Movers, we believe that moving should be affordable. That's why we offer competitive pricing for our residential moving services. We'll work with you to create a moving plan that fits your budget and needs, without compromising on quality.
Insurance Protection
At Explore Movers, we understand that accidents can happen. That's why we offer insurance protection for your belongings during the move. Our team will work with you to determine the best insurance options for your specific needs.
DIVERSE Moving Solutions
We want to clarify that we can do the job if you need to be moved, regardless of the kind of move.
We offer moves for senior citizens, considering several factors, such as keeping them involved with the move and letting them choose what they want to keep and not keep. We act quickly and we always plan ahead, especially with this kind of move. The move may be emotional, considering the many years of memories in the home, and we also consider that seriously. Learn more about moving elderly seniors here: https://abramsonseniorcare.org/resources/senior-health-resources/moving-elderly-parents-out-of-their-home/
Sometimes, your kids will become adults and head off to college. Moves for college students is also a specific niche within moving services. We will allow them to take the lead while making suggestions such as keeping the bed off the floor, for extra storage. Utilizing storage containers for clothes they won't wear for a while and packing some clothes with the hangers so they can immediately transfer them to the closet to hang up. It's also wise not to overpack. Simply take what you need. It will not likely fit in the dorm if it barely fits in the car. Explore Movers is here to help you, not boss you around. For more on this subject, read this article: https://wonderscounseling.com/preparing-for-moving-a-college-kid-into-the-dorm/
At some point, couples and newlyweds move in together for the first time. There are many things to consider, and it's wise for the moving company you hire to be emotionally intelligent on such a situation. For example, belongings from each person will be accumulating into a shared space. They may not have planned what goes where, and they may argue about this. We let them know that we are here to work with the BOTH of them, so they will need to come to an agreement on where to place items. We encourage teamwork while bringing out the best in each other. For more on this, read this informative article from Bellhop: https://www.getbellhops.com/blog/newlyweds-guide/
If you're looking for a reliable and professional residential moving company in Flint, Michigan, look no further than Explore Movers. We offer customized moving plans, efficient and timely moving solutions, an experienced and reliable team, affordable pricing, and insurance protection. Contact us today for a free quote and help us make your move stress-free and efficient. 
Navigating the Journey: Local to Long-Distance Moving with Explore Movers
Moving is a significant life event, whether you're transitioning to a nearby neighborhood or embarking on a long-distance adventure to a new city. The process of relocating comes with its own set of challenges, from organizing your belongings to ensuring a smooth transition. At Explore Movers, we're here to make your move—from local to long-distance—seamless, stress-free, and tailored to your needs.
Local Moving: Navigating Your Neighborhood with Ease
Moving within your local area requires meticulous planning and efficient execution. Explore Movers understands the intricacies of local moves and is dedicated to making the process effortless for you. Our team's familiarity with your neighborhood ensures that we safely navigate streets, traffic, and logistical considerations.
Long-Distance Moving: Embarking on New Horizons
Moving to a new city or state involves different considerations, and Explore Movers is equipped to handle the complexities of long-distance moves. With our comprehensive services, you can trust that your belongings will be transported with care, regardless of the distance.